---

Older Activity

---

I have been spotted! :surprised: Hiya love! :nekopara_hug: /me bearhugs

209 replies | 1836 view(s)

68873 replies | 1252142 view(s)

/me glomps unownHGSS; :rr_love:

209 replies | 1836 view(s)

87336 replies | 1532467 view(s)

209 replies | 1836 view(s)

i want rupert grint as the doctor. it's a poor fit, but i'd be happy lol

209 replies | 1836 view(s)

209 replies | 1836 view(s)

Google "war file" There are several apps available that will let you extract war files. Hope this helps! :)

1 replies | 54 view(s)

Infamous; Yes, it's truly a shame so little of Patrick Troughton's work survived. he was the one that made the regeneration gimmick work, and his...

209 replies | 1836 view(s)

68873 replies | 1252142 view(s)

i have all the episodes of doctor who. in some form at least. (took about 6 months without turning off the computer) hartnell was really good. it's...

209 replies | 1836 view(s)

209 replies | 1836 view(s)

21390 replies | 349584 view(s)

I've had the good fortune to watch examples of all the Doctors. All time IMO, Tennant was indeed, one of the three greatest Doctors, along with...

209 replies | 1836 view(s)

you think so? out of the new 4, capaldi is the third worst in my opinion. right before tennant. matt smith was the best. he brought a very lovable...

209 replies | 1836 view(s)

Gabriel DropOut - Silly cuteness... or cute silliness. A clever comedy! Finally found a Winter season series I like! After two episodes, I'm...

5577 replies | 179187 view(s)

Not evil. Every regeneration of the Doctor is different, some fey, some serious, some silly, usually a bit arrogant. But all are loyal to their...

209 replies | 1836 view(s)

/me is re-watching Rosario to Vampire...

209 replies | 1836 view(s)

it depends on which doctor.....to an extent :wasclose:

209 replies | 1836 view(s)

Never watched the show before... Its about um... an evil time traveler?

209 replies | 1836 view(s)

209 replies | 1836 view(s)

The new season of Doctor Who begins April 15! :alice_yay: Looks like fun! :korokke_nice:

209 replies | 1836 view(s)

68873 replies | 1252142 view(s)

6642 replies | 102216 view(s)

all the fun people are here when i'm sleeping/working :crushed:

209 replies | 1836 view(s)

And, g'night people...:bored:°°°°°°:dead:

209 replies | 1836 view(s)

*Has no mana bar* *Does not trust a shady can called "Mr.Peter"*

209 replies | 1836 view(s)

209 replies | 1836 view(s)

209 replies | 1836 view(s)
More Activity
No More Results
No Recent Activity
About Shinseph
Basic Information
Date of Birth

August 21
About Shinseph
Biography:

Water: 35 l. Carbon: 20 kg. Ammonia: 4 l. Lime: 1.5 kg. Phosphorus: 800 g. Salt: 250 g. Saltpeter: 100 g. Sulfur: 80 g. Fluorine 7.5 g. Iron 5 g. Silicon 3 g. and trace amounts of 15 other elements.
Location:

In your bag.
Interests:

Pretty much what you'd expect from a denizen of the intertubes.
Occupation:

Data entry
Signature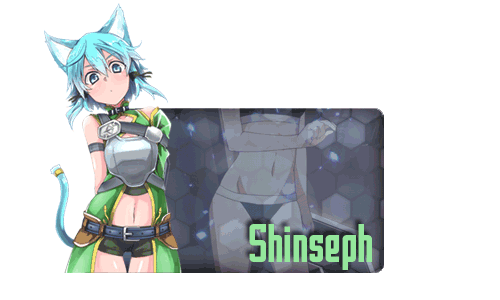 Contact
Instant Messaging
Send an Instant Message to Shinseph Using...
Statistics
Total Posts
Total Posts

15,070
Posts Per Day

10.83
Visitor Messages
Total Messages

732
Most Recent Message

December 17th, 2016

11:14 AM
Total Thanks
Total Thanks

79
Thanked 880 Times in 768 Posts
General Information
Join Date

June 5th, 2013
Referrals

1
Home Page
48

Friends

Showing Friends 1 to 10 of 48
Experience
Points
Points

44,865
Level

100

Level up completed
Level up completed

0%
Points required

0
Activity
Activity

20.0%

Activity last 30 days

26.0%

Activity last 7 days

28.0%

Points
All Points for user
Points for User

6,034
Points for Reputation

1,795
Points for using reputation system

156
Points for every day since registration

2,783
Points for Friends

144
Points for posting Visitormessages

1,131
Points for Referrals

25
All Points for threads
Points for threads

8,691
Points for Threads

10
Points for tagging threads

2
Points for received rating

250
Points for using rating

59
Points for replies

3,557
Points for Views

4,812
All Points for posts
Points for Posts

30,140
Points for Posts

30,140
Average Posts per Day

10.00
All Points for miscellaneous
Points for Misc

0
Activities
March 26th, 2017
March 24th, 2017
March 23rd, 2017
March 22nd, 2017
March 21st, 2017
March 20th, 2017
March 27th, 2017
March 26th, 2017
March 25th, 2017
March 21st, 2017
March 18th, 2017
March 17th, 2017
Post Areas
Top Areas Of Posting